March 27, 2018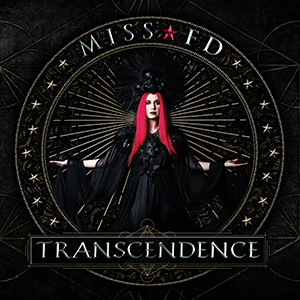 FORT LAUDERDALE, FL - Dark electronic music artist Miss FD releases her fourth studio album today on Quantum Release Records, titled
Transcendence
. The album features seven new compositions written and performed by Miss FD, and includes collaborations with Vulture Culture and Robert Dante.
The new album is available on
iTunes
,
Spotify
, and other digital media carriers. Orders for physical CDs placed directly through
MissFD.com
include availability of a limited edition 4-CD discography with
Transcendence
and Miss FD's prior albums
Monsters in the Industry
(2010),
Love Never Dies
(2011) and
Comfort for the Desolate
(2013), as well as other exclusive merchandise.
The opening track "Despair" is also featured in a new
music video
directed by Chad Michael Ward, which "
invokes feelings of isolation and existential suffering
," says Miss FD. "
Once accepted through self-examination, these emotions can become a source of primal healing, rather than an over-medicated symptom
."
Robert Dante, featured on earlier Miss FD songs, contributes string and guitar arrangements throughout
Transcendence
, and a piano performance of Miss FD's "Transcendence Intermezzo". Vulture Culture's Alex Dalliance's production work is featured on "Delirium".
Introspection and acceptance thematically permeate the album, which concludes with "Icarus", after the Greek mythological figure who famously soared on wings too close to the Sun.
Transcendence Tracklist:
01. Despair
02. Vagaries
03. Delirium (feat. Vulture Culture)
04. Little Galaxy
05. Transcendence Intermezzo (feat. Robert Dante)
06. All the Pieces
07. Icarus
Release Date:
March 27, 2018
Type:
4 page digipack + 12 page booklet
Label:
Quantum Release Records
Order Number:
QRR015
UPC:
888295674195
Order Now:
iTunes
,
Miss FD's Shop