Bio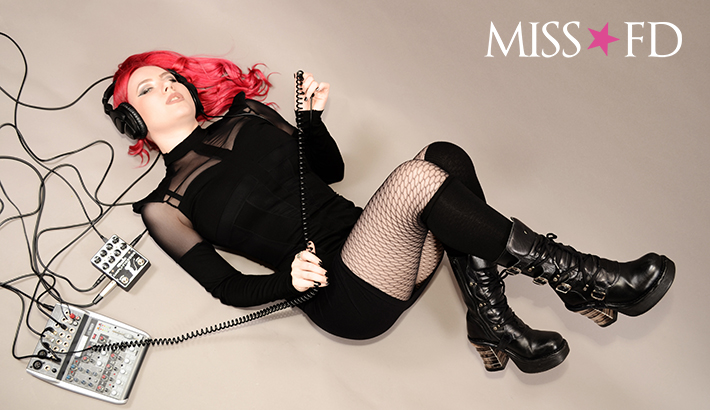 Miss FD is a dark electronic music artist, songwriter, singer, producer, and performer. FD's music is unified by a distinctive vision of dark atmospheres brought to life by creative, textured synth work, graced with seductive yet dangerous vocals.
Miss FD's first full-length album to emerge from her dark electronic project was
Monsters in the Industry
, released in 2010. From this album, the track
"Enter the Void"
led to the launch of Miss FD's first official
music video
.
2011 brought the debut of
Love Never Dies
, a haunting exploration of mourning, pain, and despair. Like its predecessor, the album received a wave of positive reviews, declaring it "wonderfully beguiling" and "sheer musical artistry."
Building on a strong fanbase both live and online, FD's impact on the world of electro-industrial/EBM has also led to collaborations with other leading artists. FD's work has been featured in multiple EBM and dark electronic music compilations.
In 2013 Miss FD released her 3rd studio album,
Comfort for the Desolate
. The album earned numerous positive reviews, proving that Miss FD continues to set a high bar. An expansion on her previous work,
"Comfort for the Desolate"
continues in the mode of intensely personal lyrics exploring difficult philosophical concepts - identity, existence, consciousness, and meaning.
A new chapter is about to be revealed with Miss FD's 4th studio album,
Transcendence
. Expected for release in 2018,
"Transcendence"
will include 7 new heart-wrenching compositions. Continuing on a path of dark atmospheres and intensely engaging emotional explorations,
"Transcendence
" promises to bring to light a new era in Miss FD's musical career.
Be a part of the
"Transcendence"
journey with Miss FD. Pre-order the new album from
PledgeMusic
.